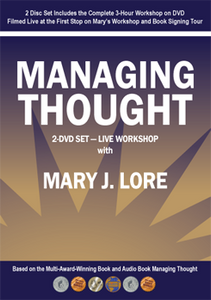 How Do Your Thoughts Rule Your World?® Live 3-Hour Workshop by Mary J. Lore (Video Digital Download)
Regular price $35.00 Sale
This video download includes the full 3-hour workshop presented by Mary Lore to leaders and educators at the first stop on her book signing tour.
Hailed by business leaders coast to coast, Managing Thought® is a relevant and timeless workshop that provides a step-by-step process to turn habitual, counterproductive thinking into creative thinking and inspired action.
Filmed live at the University of Michigan--Dearborn, College of Business, this workshop brings Mary's award-winning book and audio book to life.
Mary's targeted thought techniques and real-world applications not only change the way you think about your career, your relationships, and your life. It changes the way you think—period. The exercises are eye-opening and participants report how they can actually experience and feel the difference between a powerful thought and a weak thought.
Learn how to:
Become aware of your thoughts
Know whether a thought is working for you or against you
Eliminate thoughts that waste time, energy, and money
Make subtle changes in how you think to reignite your creativity, restore your sense of purpose, reclaim your peace of mind, and achieve significant results.
To view the Contents of the Video Download and Mary's introductory note included in the original DVD package, click on the images below.