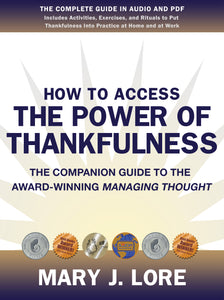 How to Access the Power of Thankfulness Companion Guide by Mary J. Lore (Digital Audio & PDF)
Regular price $19.95 Sale
This companion to Mary Lore's multiple award-winning book Managing Thought is a timeless guide you'll refer to for years to come. In the audio portion, Mary reads the entire guide, including the toolkit. Also included is the entire guide and toolkit in printable PDF format.
The Thankfulness Guide includes a toolkit with real-world applications and dozens of personal practices and rituals. Group exercises and activities, with detailed facilitation instructions for couples, families, teams, and organizations, are also included. Choose what appeals to you at whatever level and frequency feels comfortable.
The Thankfulness Guide provides a practical, step-by-step approach to make thankfulness a process and way of being, so you can:
RECLAIM your peace of mind
RESTORE your sense of purpose
REDISCOVER what inspires you
RECONNECT with your strengths
REVITALIZE your health and happiness
REALIGN with your highest vision of yourself
REMEMBER who you truly are and what you truly want
and more…
Adobe® Reader® is required to view and print this PDF file and can be downloaded for free at www.adobe.com.
To view the table of contents, the jacket and read Mary's introduction be sure to click on and download the free Jacket, Intro and Content PDF product.